About these web pages
These web pages are based on my own experience of trying to grow exotic plants outdoors in Ängelholm, Skåne, southern Sweden. My original plan was to call these pages "Palms and other exotic plants for Sweden". Unfortunately, this would have been a bit ridiculous since, except the coastal regions in southern Sweden, the major parts of Sweden are far too cold for palms. The hardiest palms and many other exotic plants can on the other hand grow in many parts of Denmark and southwestern Norway. In addition, I live close to Denmark and often visit Copenhagen and Zealand. Consequently, it seemed more natural to call these pages "Palms and other exotic plants for Scandinavia". Most of the species that are mentioned are already growing in some places in Scandinavia.
Even if the areas in Sweden where these plants may grow are very limited geographically, are they at least densely populated, which means that there are in reality quite many people even in Sweden that can grow these plants. And seriously, who wants to live in areas where no palms can grow outdoors?
People in the rest of Sweden may anyhow still be able to enjoy these pages. It is for example possible to grow some species of cactus, Yucca and bamboo quite far north in Sweden.
I have no botanical or horticultural education at all. I have a Master of Science degree in Electrical Engineering and I work with design of integrated circuits for wireless communications. Ornamental plants are just a hobby for me.
Some history about these web pages:
The very first version of these web pages existed already in 1998 at torget.se but since they had too limited disk space for each user, I moved the web pages to passagen.se in 1999. Unfortunately, passagen.se started to use irritating pop-up windows with advertising and also a promoting banner on top of the pages that was impossible to remove with Javascript. I gradually felt that I no longer had control over how my web pages were presented to the readers. At the same time, I already had a good broadband internet connection at home and I had also learnt a few things about firewalls and file servers on Linux computers. Consequently, it was quite natural for me to set up my own web server.
This web server (Apache) is running on an isolated virtual Linux computer inside a real physical Linux computer, which I use as a firewall and private file server. This gives good safety (for me) and in addition, it will be easier to make a back-up of the web server. A private web server gives me the opportunity to use CGI scripts and SSI (Server Side Includes) and I have, among other things, used this to set up my own Discussion Forum. I have also made an effort to make the web pages look as similar as possible on different web browsers under Windows, Linux and Mac OS X. I strive to provide high accessibility of the server and will do my best to minimize any service interruptions. In addition, I have connected the server to a UPS in order to protect it from power surges and to be able to handle power failures in a controlled way. I also have a backup server that I switch over to in case the server experiences problems, which has happened a few times.
It is possible that I eventually will replace this server with a NAS. They have almost all the functionality that I need and a web server is normally included. It will probably be cheaper in the long run, since I don't need much computer power.
I will not let other people put their web pages or photo galleries on my server.
The website is now updated so that it now no longer uses HTML frames, which is not recommended any longer. However, I have so far chosen to preserve the original appearance of the web pages. What seems to be HTML frames is now achieved by using CSS instead. If I would like to make a new major update of how the site works then I would probably have to go away from the original appearance. Also the forum has received a very much needed update and I hope the new look will be more appreciated. Any future updates will probably be primarily focused on ensuring that the web pages and discussion forum work well on various smartphones.
The web pages and discussion forum store cookies on your browser to remember user preferences, but not for any other purpose. The web pages and forum will work even if you disable cookies, but with some performance degradation. You can safely allow cookies from this website.
Leif Klingström Dec 25, 1999 - updated Jan 22, 2012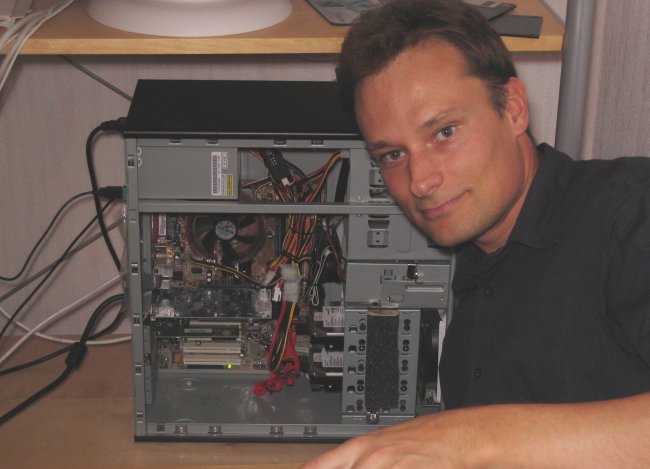 Leif Klingström with the original computer which this server was running on, 2005.
---
If you have any comments or suggestions, e-mail me: